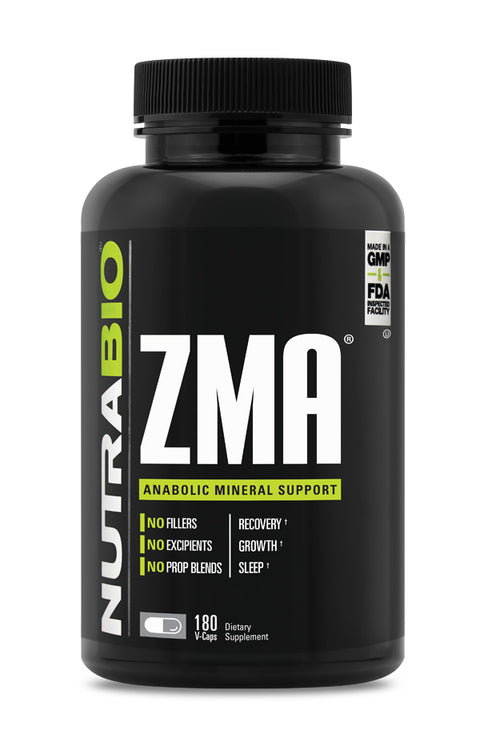 Nutrabio
ZMA 180 Vegetable Capsules
$24.99
$40.00
you save $15.01
Checking availability
Features

 

of NutraBio ZMA
You Grow As You Sleep!
Promotes restful sleep for nighttime recovery.
May improve muscle strength and size.
100% pure ZMA®.
ZMA®
 

Fights Mineral Deficiency

Scientific research has found that rigorous exercise and stress result in significant loss of zinc and magnesium. These mineral deficiencies are common in the general population and even more prevalent in athletes. The original patented ZMA® is a scientifically designed and laboratory tested anabolic mineral formula comprised of Zinc, Magnesium, and Vitamin B6.
ZMA®
 

is Designed to Promote Restful Sleep and Recovery

ZMA® was the first product developed specifically to enhance recovery by improving sleep efficiency. Exercise tolerance is decreased by sleep deprivation. ZMA® increases muscle strength and promotes a deep and restful sleep which helps maximize healing, recovery, regeneration and growth.
ZMA®
 

for Accelerated Muscle Recovery

ZMA® is an advanced formulation designed to significantly improve muscle strength and endurance as well as accelerate healing and tissue repair when used in conjunction with intense weight training. A university research study also found ZMA® to significantly increase free testosterone levels and total testosterone levels in trained athletes.
ZMA®
 

is Unique

ZMA® is a uniquely synergistic formula designed to be used in conjunction with an effective exercise program. As more fitness enthusiasts begin to truly understand how to maximize recovery and muscle growth, they'll join those already spreading the ZMA® gospel: You Grow As You Sleep!
ZMA®
 

is 100% Pure

ZMA® is a registered trademark of SNAC System, Inc., San Carlos, CA 94070. NutraBio uses only authentic ZMA® under license from SNAC Systems. Please be advised that imitation Zinc Magnesium Aspartate products have flooded the market and are not the same as ZMA® and may not produce the same results that were obtained in original ZMA® studies.

Suggested Use: Men take 3, or women take 2 capsules daily, preferably on an empty stomach 30 - 60 minutes before bedtime. For best results, avoid taking with dairy or other calcium-containing foods or supplement

WARNING: NOT INTENDED FOR USE BY PERSONS UNDER THE AGE OF 18. KEEP OUT OF THE REACH OF CHILDREN. If you are pregnant or breast feeding, consult your health care professional before using this product. People with known medical conditions and/or taking drugs should consult with a licensed physician and/or pharmacist prior to taking.

NutraBio Labs has a "No Compromise" commitment to producing the purest, cleanest, and most effective supplements on the market. All of our products are manufactured in-house in our FDA-inspected, GMP certified facility in New Jersey. NutraBio only uses the most superior ingredients and all ingredients are tested by us and a third party lab to ensure 99.98% purity or greater. Our products all include fully transparent labels featuring clinical doses of the highest quality ingredients available. To ensure our customers of our commitment to product quality, we launched a new website Checkmysupps.com which allows our consumers access to independent 3rd-party lab test results of all our products.

†These statements have not been evaluated by the Food and Drug Administration. This product is not intended to diagnose, treat, cure or prevent any disease.

 

*The products and claims made about specific products on this page or through this site have not been evaluated by the United States Food and Drug Administration and are not intended to diagnose, treat, cure or prevent disease. The information provided on this site is for informational purposes only and is not intended as a substitute for advice from your physician or other health care professional or any information contained on or in any product label or packaging. You should not use the information on this site for diagnosis or treatment of any health problem or for prescription of any medication or other treatment. You should consult with a healthcare professional before starting any diet, exercise or supplementation program, before taking any medication, or if you have or suspect you might have a health problem. Please view our full Terms Of Use for more information and the terms and conditions governing your use of this site.


Important Notice - This site does not provide healthcare advice. Consult your physician before starting any nutritional supplement program.

The statements made about the effects of the dietary supplements in this announcement have not been evaluated by the Food and Drug Administration. Dietary and nutritional supplements are intended for special dietary use. They are not intended for use in the treatment, cure, prevention or mitigation of any disease or disorder. They are intended to be used as part of an overall healthy lifestyle program that includes proper diet and exercise. Only your doctor can properly diagnose and treat any disease or disorder. Before starting to use any nutritional supplement, it is important to check with your doctor.

You should consult with your physician before starting a Nutrabio.com or any weight management program.  Regular exercise and proper nutrition are essential to achieving your desired physique and level of fitness and health. There are no typical results. Nutrabio.com performance nutrition products are intended to supplement your exercise and nutrition program.

It is important to read and follow all label directions carefully. Nutrabio.com® supplements are not intended for children or for pregnant or lactating women. Not all supplements are appropriate for everyone. In any case, it is prudent for those who have not been taking nutritional supplements to gradually increase their daily dosage to reach the desired amount.

Nutrabio.com® is not responsible for claims arising out of the improper use, handling or storage of any Nutrabio.com® product.  All Nutrabio.com® nutritional supplements are packaged with tamper-resistant closures (including shrink-wrap seals) and shipped directly from our warehouse to the consumer. Do not use any product if the tamper-resistant closures are torn or missing, or if there is other evidence of product tampering.

The products, information, services and other content provided on and through this site, including without limitation any products, information, services and other content provided on any Linked Site, are provided for informational purposes only to facilitate discussions with your physician or other healthcare professional (collectively, "Healthcare Professional") regarding treatment options.

The information provided on this site and Linked Sites, including without limitation information relating to medical and health conditions, products and treatments, is often provided in summary or aggregate form. It is not intended as a substitute for advice from your Healthcare Professional, or any information contained on or in any product label or packaging.

You should not use the information or services on this site for diagnosis or treatment of any health issue or for prescription of any medication or other treatment. You should always speak with your Healthcare Professional, and carefully read all information provided by the manufacturer of a product and on or in any product label or packaging, before using any medication or nutritional, herbal or homeopathic product, before starting any diet or exercise program or before adopting any treatment for a health problem. Each person is different, and the way you react to a particular product may be significantly different from the way other people react to such product. You should also consult your physician or healthcare professional regarding any interactions between any medication you're currently taking and nutritional supplements.

Nutrabio.com, Inc. is not responsible for any product or service sold on or through this site or any claims of quality or performance made on or through this site, including any claims of quality or performance made on or through any site to which this site links (each a "Linked Site"). You are advised that other sites on the Internet, including without limitation Linked Sites, might contain material or information that some people may find offensive or inappropriate; or that is inaccurate, untrue, misleading or deceptive; or that is defamatory, libelous, infringing of others' rights or otherwise unlawful. Nutrabio.com, Inc. expressly disclaims any responsibility for the content,