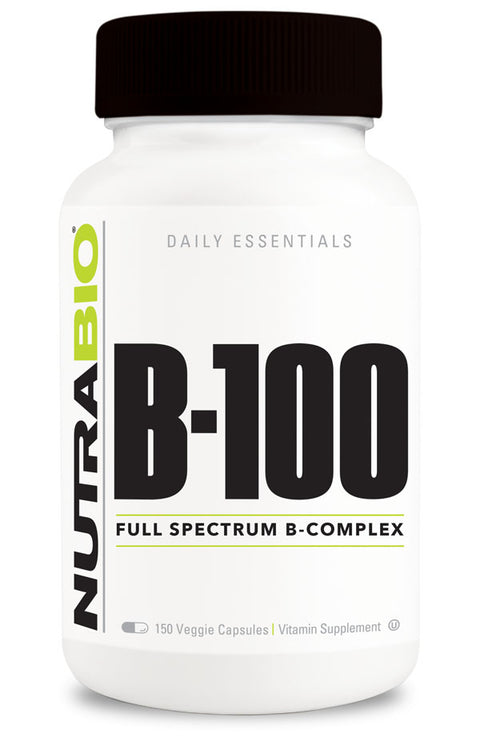 Nutrabio
Vitamin B-100 Complex 150 Vegetable Capsules
Checking availability
Features

 

of NutraBio Vitamin B-100 Complex
Helps release energy from carbohydrates.
Supports metabolism of fats and protein.
Supports functioning of immune and nervous system.
Important factor for healthy nerve cells.
Maintains healthy skin, hair and liver.
Promote cell growth and division.
Vitamin B1 (thiamine): Vitamin B1 may help naturally combat the negative effects of stress while supporting healthy energy levels, a proper nervous system, and muscle function. Vitamin B-1 plays an important part in the breakdown of foods, especially carbohydrates. It helps the body convert carbohydrates into glucose, which is then used to produce energy. Vitamin B-1 is considered an anti-stress vitamin because it supports proper nervous system and muscle functioning and may enhance the body's ability to withstand stressful conditions. Vitamin B-1 is also necessary for the production of hydrochloric acid, making it important for proper digestion. Because Vitamin B-1 is water soluble, it's not stored in the body and must be replenished daily. Although thiamine deficiency is rare, it can result in serious health complications involving the nervous system, brain, muscles, heart and gastrointestinal system. Individuals who consume heavy amounts of alcohol or who are chronically malnourished may have a higher-than-usual need for vitamin B-1.
Vitamin B2 (riboflavin): Vitamin B6 is a precursor to coenzymes involved in the growth and repair of skin and tissues lining the gastrointestinal tract, as well as the synthesis of amino acids. B2 is necessary for the formation of pigments essential to vision.
Vitamin B3 (niacinamide): Niacin is an essential B vitamin that plays many roles, including promoting cardiovascular, brain, digestive and skin health. Niacin is involved in numerous reactions inside of cells that convert food into cellular energy. Niacin is also involved in the activity of enzymes that transport and break down fats, proteins, carbohydrates, and other molecules formed from food. Niacin is particularly helpful in promoting healthy cholesterol levels. A normal function of niacin is to help remove fats (triglycerides) from tissues and the bloodstream.
Vitamin B5 (pantothenic acid): Vitamin B5 is vital for growth, reproduction, and normal physiological functions. B5 helps the body to combat stress and is vital for growth, reproduction, and normal physiological functions, such as the production, transporting, and release of energy from fats. B5 is the nutrient responsible for activating the adrenal glands, which help the body to combat stress. When it comes to the body's energy metabolism, B5 plays a very important role. It is a necessary factor for the Kreb's cycle of energy production, and together with vitamins B1, B2, and B3, helps to produce ATP, the body's fuel for energy. B5 is required for the synthesis of lipids, as well as the production of steroids and neurotransmitters. Vitamin B5 is needed to make the neurotransmitter acetylcholine, which transports information between vertebral nerve cells. This vitamin also plays a large role in cholesterol management, by synthesizing cholesterol, which is needed to produce vitamin D and steroid hormones. One by-product of pantothenic acid, pantethine, may help lower blood levels of both cholesterol and triglycerides.
Vitamin B6 (pyridoxine HCl): performs a wide variety of functions in your body and is essential for your good health. Vitamin B6 is needed for more than 100 enzymes involved in protein metabolism. It is also essential for red blood cell metabolism. The nervous and immune systems need vitamin B6 to function efficiently, and it is also needed for the conversion of tryptophan (an amino acid) to niacin. Your body needs vitamin B6 to make hemoglobin which carries oxygen to tissues. Vitamin B6 also helps increase the amount of oxygen carried by hemoglobin. A vitamin B6 deficiency can result in a form of anemia that is similar to iron deficiency anemia. Vitamin B6, through its involvement in protein metabolism and cellular growth, is important to the immune system. It helps maintain the health of lymphoid organs (thymus, spleen, and lymph nodes) that make your white blood cells. Animal studies show that a vitamin B6 deficiency can decrease your antibody production and suppress your immune response. Vitamin B6 also helps maintain your blood glucose (sugar) within a normal range. When caloric intake is low your body needs vitamin B6 to help convert stored carbohydrate or other nutrients to glucose to maintain normal blood sugar levels.
Vitamin B12 (methylcobalamin): Vitamin B12 helps maintain healthy nerve cells and red blood cells. It is also needed to help make DNA, the genetic material in all cells. B12 protects brain cells and nerve tissue and promotes better sleep.
Suggested Use: As a dietary supplement, take 2 capsules 1-2 times daily preferably with a meal or as directed by a physician.
Allergens: Free of the most common allergens such as yeast, dairy, egg, gluten, corn, soy, barley, lactose, fish and wheat. No added sugars, salt, preservatives, salicylates, or artificial color, flavor or fragrance.
WARNING: NOT INTENDED FOR USE BY PERSONS UNDER THE AGE OF 18. KEEP OUT OF THE REACH OF CHILDREN. If you are pregnant or breast feeding, consult your health care professional before using this product. People with known medical conditions and/or taking drugs should consult with a licensed physician prior to taking.
NutraBio Labs has a "No Compromise" commitment to producing the purest, cleanest, and most effective supplements on the market. All of our products are manufactured in-house in our FDA-inspected, GMP certified facility in New Jersey. NutraBio only uses the most superior ingredients and all ingredients are tested by us and a third party lab to ensure 99.98% purity or greater. Our products all include fully transparent labels featuring clinical doses of the highest quality ingredients available. To ensure our customers of our commitment to product quality, we launched a new website Checkmysupps.com which allows our consumers access to independent 3rd-party lab test results of all our products.
†These statements have not been evaluated by the Food and Drug Administration. This product is not intended to diagnose, treat, cure or prevent any disease.
*The products and claims made about specific products on this page or through this site have not been evaluated by the United States Food and Drug Administration and are not intended to diagnose, treat, cure or prevent disease. The information provided on this site is for informational purposes only and is not intended as a substitute for advice from your physician or other health care professional or any information contained on or in any product label or packaging. You should not use the information on this site for diagnosis or treatment of any health problem or for prescription of any medication or other treatment. You should consult with a healthcare professional before starting any diet, exercise or supplementation program, before taking any medication, or if you have or suspect you might have a health problem. Please view our full Terms Of Use for more information and the terms and conditions governing your use of this site.

Important Notice - This site does not provide healthcare advice. Consult your physician before starting any nutritional supplement program.
The statements made about the effects of the dietary supplements in this announcement have not been evaluated by the Food and Drug Administration. Dietary and nutritional supplements are intended for special dietary use. They are not intended for use in the treatment, cure, prevention or mitigation of any disease or disorder. They are intended to be used as part of an overall healthy lifestyle program that includes proper diet and exercise. Only your doctor can properly diagnose and treat any disease or disorder. Before starting to use any nutritional supplement, it is important to check with your doctor.
You should consult with your physician before starting a Nutrabio.com or any weight management program.  Regular exercise and proper nutrition are essential to achieving your desired physique and level of fitness and health. There are no typical results. Nutrabio.com performance nutrition products are intended to supplement your exercise and nutrition program.
It is important to read and follow all label directions carefully. Nutrabio.com® supplements are not intended for children or for pregnant or lactating women. Not all supplements are appropriate for everyone. In any case, it is prudent for those who have not been taking nutritional supplements to gradually increase their daily dosage to reach the desired amount.
Nutrabio.com® is not responsible for claims arising out of the improper use, handling or storage of any Nutrabio.com® product.  All Nutrabio.com® nutritional supplements are packaged with tamper-resistant closures (including shrink-wrap seals) and shipped directly from our warehouse to the consumer. Do not use any product if the tamper-resistant closures are torn or missing, or if there is other evidence of product tampering.
The products, information, services and other content provided on and through this site, including without limitation any products, information, services and other content provided on any Linked Site, are provided for informational purposes only to facilitate discussions with your physician or other healthcare professional (collectively, "Healthcare Professional") regarding treatment options.
The information provided on this site and Linked Sites, including without limitation information relating to medical and health conditions, products and treatments, is often provided in summary or aggregate form. It is not intended as a substitute for advice from your Healthcare Professional, or any information contained on or in any product label or packaging.
You should not use the information or services on this site for diagnosis or treatment of any health issue or for prescription of any medication or other treatment. You should always speak with your Healthcare Professional, and carefully read all information provided by the manufacturer of a product and on or in any product label or packaging, before using any medication or nutritional, herbal or homeopathic product, before starting any diet or exercise program or before adopting any treatment for a health problem. Each person is different, and the way you react to a particular product may be significantly different from the way other people react to such product. You should also consult your physician or healthcare professional regarding any interactions between any medication you're currently taking and nutritional supplements.
Nutrabio.com, Inc. is not responsible for any product or service sold on or through this site or any claims of quality or performance made on or through this site, including any claims of quality or performance made on or through any site to which this site links (each a "Linked Site"). You are advised that other sites on the Internet, including without limitation Linked Sites, might contain material or information that some people may find offensive or inappropriate; or that is inaccurate, untrue, misleading or deceptive; or that is defamatory, libelous, infringing of others' rights or otherwise unlawful. Nutrabio.com, Inc. expressly disclaims any responsibility for the content,