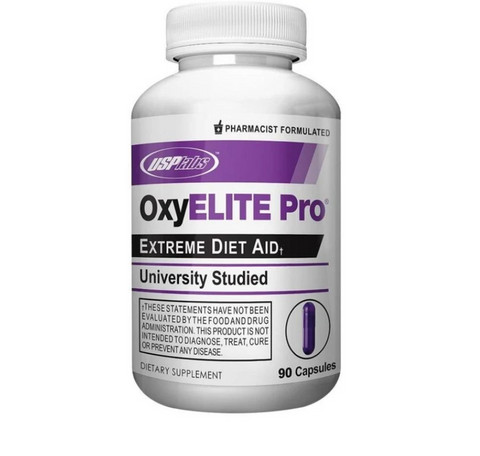 Hi Tech Pharma
USP Labs OxyElite Pro | Diet Aid
$39.99
$49.99
you save $10.00
Checking availability
Extreme Diet Aid - USP Labs OxyElite Pro
The powerful diet aid OxyElite Pro from USP Labs is back! And with a new and improved formula too! Oxy Elite Pro was a hugely popular diet aid years ago, and is now back and better than ever with a new formula!
With this reformulation, OxyElite Pro is now powered by DMHA! Otherwise known as 2-Aminoisoheptane HCl, DMHA is synergistic with another key component of OxyElite Pro's new formula, caffeine. Add in yohimbe extract, and the rest of OxyElite Pro's powerful formula, and you've got a diet aid with scientifically studied and proven ingredients, that will help promote boosts in your metabolism, focus, and energy all in one!
What's the Difference in This USP Labs OxyElite Pro Formula?
The updated 2019 formula of USP Labs OxyElite Pro is powered by DMHA (2-Aminoisoheptane HCl) and a more powerful proprietary blend. This new formula is completely new and unique of the 2019 re-release of USP Labs OxyElite. 
The DMHA (2-Aminoisoheptane) & Geranium extract in OxyElite Pro work very well together. To use Geranium Extract, Hi-Tech Pharmaceuticals removes the currently litigated DMAA from the extract, and use the rest of the unargued alkaloids.
USP Labs OxyElite Pro Benefits
University-Studied Fat Burner
DMHA Powered
Provides Incredible Focus & Concentration
Only 100mg of Caffeine per Capsule
University Studied Formula
Helps Increase Body's Use of Energy & Metabolism
How to Take OxyElite Pro
Take 1-2 capsules in the morning and 1 capsule after lunch. Do not exceed 4 capsules per day.
USP Labs OxyElite Pro Ingredients
USP Labs OxyElite Pro Warnings
Warning: Not for use by individuals under the age of 18 years. Do not use if you are pregnant or nursing. This product can raise blood pressure and interfere with other drugs you may be taking. Talk to your doctor about this product. Sale to persons 17 years of age or younger is prohibited. (Warning/information continued on label.)
References
Ostojic SM. Yohimbine: the effects on body composition and exercise performance in soccer players. 2006.
https://www.ncbi.nlm.nih.gov/pubmed/17214405
Kim, TW., Shin, YO., Lee, JB. et al. Food Sci Biotechnol (2010) 19: 1077. https://doi.org/10.1007/s10068-010-0151-6

https://link.springer.com/article/10.1007%2Fs10068-010-0151-6