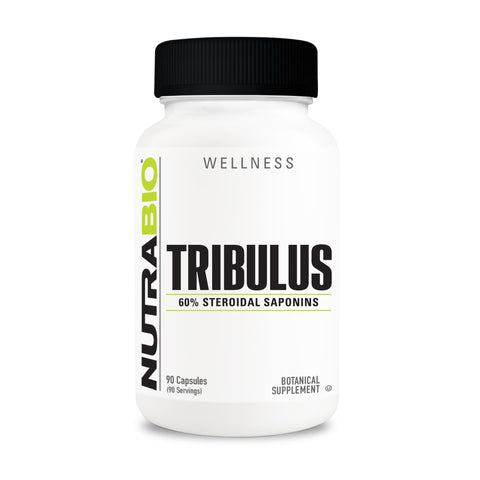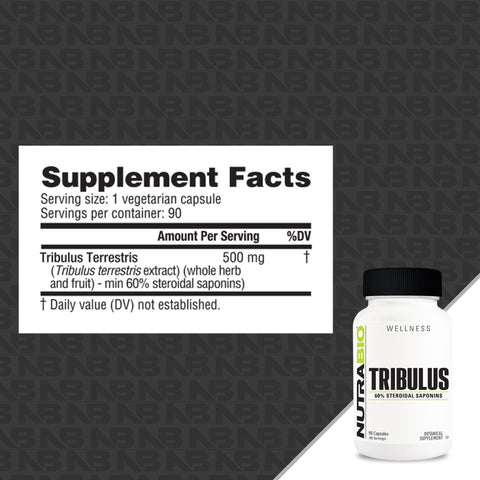 NutraBio
Nutrabio Tribulus Terrestris
$13.95
$25.00
you save $11.05
Checking availability
Tribulus terrestris has been shown in studies to enhance lutenizing hormone (LH) production by as much 186% and raise testosterone levels as much as 40%. Saponin is the active ingredient in tribulus that is responsible the beneficial effects. Saponin works by stimulating the body's production of LH (or pre-testosterone), which in turn promotes the production of testosterone, the key male hormone responsible for helping to add lean body mass, increase metabolism and keep libido or sex drive levels high.
We use only 100% tribulus extract standardized to a minimum 60% saponin, twice the concentration of most brands. Saponin is the active ingredient in tribulus. We do not mix it with cheap whole plant tribulus powder to bring the price down. We use only the pure standardized extract - No Tricks. With any herb the only way to know what you're getting is to insure it is a standardized extract listing the percentage of active ingredient.
Tribulus Terrestris Supports Testosterone Levels Naturally!
The increased testosterone levels have a positive effect on strength and stamina. Athletes use Tribulus Terrestris to help ensure their own natural levels of testosterone are at a normal level at all times. Tribulus Terrestris is a Andro/pro-hormone alternative that can be used to naturally increase testosterone levels. Tribulus terrestris is a testosterone enhancer. Studies show that it works very well when stacked with DHEA. It increased testosterone levels in a different way than either DHEA or andro do. Instead of being a testosterone precursor, it leads to the production of the luteinizing hormone (LH). When LH levels are increased, the natural production of testosterone also increases. LH is a hormone that also deals with sex drive. Now one can understand why it has been used to increase fertility and help with impotence. Laboratory animal studies found that Tribulus terrestris increased sperm count as well as motility levels after taking it for 30 days.
Tribulus Terrestris has been used for centuries in Europe as a treatment for impotence and as a stimulant to help enhance sexual drive and performance. Testosterone controls sexual drive (libido) and stamina. Therefore, increasing testosterone will significantly improve your sex life. Clinical studies confirm that men experience a dramatic increase in sexual drive and performance when their testosterone levels are elevated.