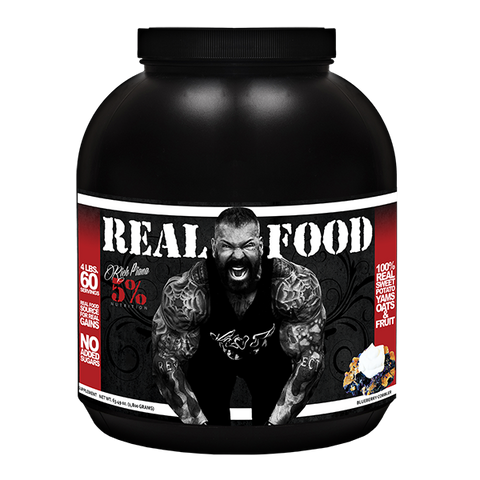 Rich Piana 5%
5% Nutrition Real Food (4 Lbs)
Checking availability
Real Food, Real Gains
Whole Food Meal Relacement/Supplement
100 calories/scoop
21g of whole food carbohydrates/scoop
As simple as the name says, Rich Piana's Real Food is just that. A nutritious carbohydrate powder that is made of…well…real food! For years, meal replacements have been a sad mix of cheap maltodextrin and sugars with some protein powder thrown in for good measure. This left you with a mix of subpar, cheap nutrition that spikes insulin and doesn't have much other added health benefits. Well, just Rich Piana is here to change that with the introduction of Real Food.
Rich Piana's Real Food is a whole food and carbohydrate matrix that gives you slow burner carbs, such as oatmeal, yams and sweet potatoes. All low glycemic, you won't have the big impact on your blood sugar levels like other meal replacements of the past. In a convenient and ready to mix powder, Real Food gives you a flexible solution to your busy days and nights that can either added to meals or used as a standalone supplement during the day to get more carbohydrates and nutrients into your diet.
Whole Food Carbohydrates:
Oatmeal
Yams
Sweet Potatoes
Dried Fruit
Not only does Rich Piana's Real Food have a complete profile, but the flavor was perfected as well. With most meal replacement powders, you end up with a gritty, nasty un-mixable drink that you can hardly take down. Not with Real Food. Rich Piana wanted to formulate a meal replacement that not only tasted amazing, but was easily mixable so anyone could drink it.
Sweet Potato - 10g
High in fiber and nutrients
Has a low glycemic index and load
Great source of complex carbohydrates
Rich source of anti-oxidants
Pounded Yam 10g
Excellent, low glycemic source of carbohydrates
Not as nutrient rich as sweet potato
Good source of vitamins C & B6
Good source of copper and maganese
Oats - 7g
One of the best sources of fiber and minerals
Beneficial in regulating cholesterol levels
Studies have shown that it may have cardiovascular protective benefits via avenanthramides
Protect against oxidation in cardiovascular system induced by presence of copper
Blueberry Fruit Powder - 500 mg
Natural sweetener source
One of the most anti-oxidant rich foods in the world
Good source of vitamin C