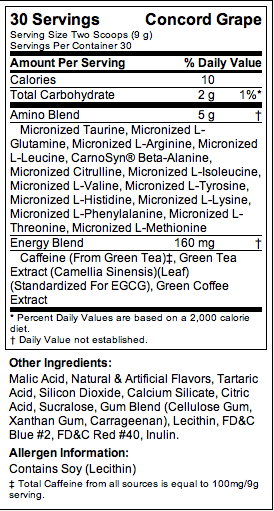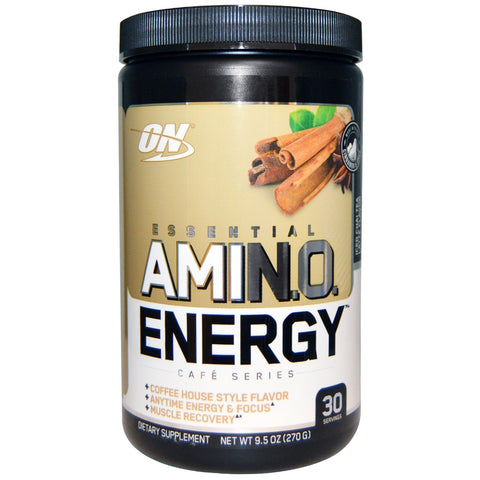 Optimum Nutrition
Optimum Nutrition Amino Energy 30 Servings
Checking availability
Optimum Nutrition's Amino Energy is a great product for anyone looking for a fruit flavored or coffee house inspired boost of energy and alertness. Each serving of Amino Energy contains 100mg of caffeine from natural sources, and 5 grams of free form essential amino acids for rapid uptake and recovery. Amino energy can be taken pre, intra, and post workout or anytime you need a pick me up.* Energy and focus before, during, and after exercise
* Essential amino acid delivery
* Energy and focus before, during, and after exercise
* Increased recovery
* 100mg of caffeine and 5g of amino acids per serving
* 5-15 calories, zero sugars
DETAILS
Use anytime for: Essential Amino Acid Delivery, Nitric Oxide Production, Muscle Recovery Acceleration, Improved Energy and Focus. Free Form Amino Acids for Rapid Uptake. Essential Amino Acids including BCAAs. Supports Recovery Before, During & After Exercise. Train Longer & Harder with beta-Alanine. Natural Energizers & Antioxidants. Supports Nitric Oxide Synthesis.
DIRECTIONS
Mix two scoops of Essential Amino Energy in 10-12 oz of cold water. Recommended Use: For an amino acid boost: Consume one or more servings first thing in the morning and/or between meals. For pre-workout energy: take 1-3 servings 20-30 minutes before training. For post workout recovery: Take 1-2 servings immediately after training. Dial-Up Your Energy and Aminos: Scoop: 2, Energy Level: Mild, Amino Level: 5 grams; Scoop:4, Energy Level Moderate, Amino Level: 10 grams; Scoop: 6, Energy Level: Intense, Amino Level: 15 grams. Tips: Essential Amino Energy contains 50 mg of caffeine per scoop, so do not consume after 5:00pm if you have difficulty sleeping. Essential Amino Energy also contains beta-alanine and may cause a temporary tingling sensation on your skin. This is normal. With continued use, the intensity of the sensation will decrease or disappear.
WARNINGS
Keep out of reach of children. Check with a qualified health care professional before taking this product if you are pregnant or nursing a baby, under 18 years of age, have any known or suspected medical conditions, and/or if you are taking any prescription or OTC medications. Allergen Information: Contains Soy (Lecithin).