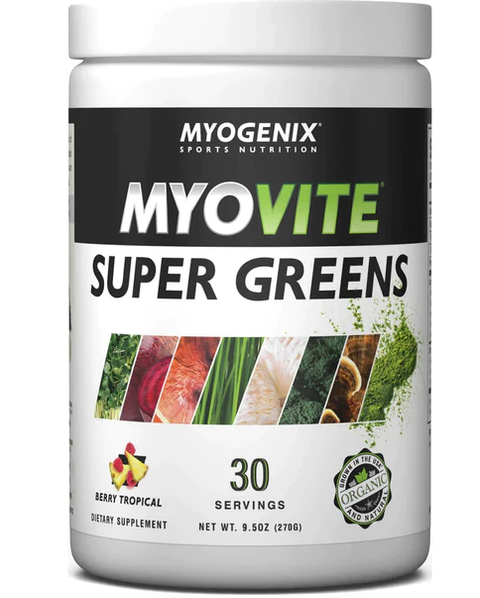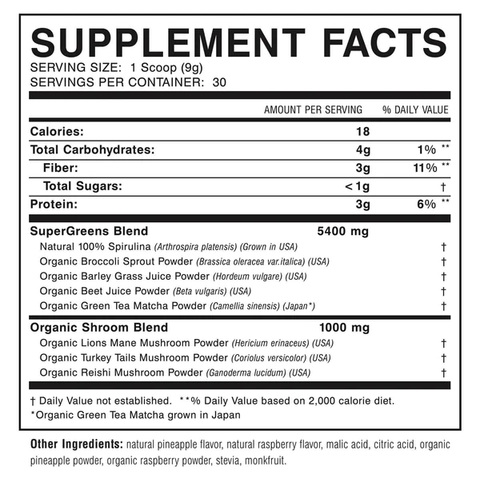 Myogenix
Myogenix: Myovite Super Greens, Berry
Checking availability
             Super Greens blended with the good stuff

 

-
Natural 100% spirulina, organic broccoli sprout powder, organic barley grass juice powder, organic beet juice powder, organic green tea matcha powder. Organic Shroom Blend: Organic lion's mane mushroom powder, organic turkey tails mushroom powder, organic reishi mushroom powder.
Feel and taste the difference in locally grown ingredients

 

-
All seven of the eight ingredients are locally grown in the United States. Matcha Tea is grown in Japan. Flavored with pineapple and raspberry to create a delicious berry tropical flavor.
Convenient & delicious everyday drink mix

 

-
Myovite greens are a healthy and convenient source of nutrition for when you need it. Make a Myovite Greens drink every day for vital nutrients and vitamins. Low calorie.
Great results

 

-
Helps you feel great at the beginning and throughout the day. High in antioxidants and vitamins A&C. Vital nutrients help the body repair and regenerate important bodily functions.
Ingredients that serve a purpose

 

-
None of the unnecessary ingredients like fruit powders, vegetable powders and grass powders. Every ingredient serves a purpose in this nutrient powder drink mix.
A Mega-Dose of 8 Amazing Ingredients!
❱

 

BROCCOLI SPROUT
❱

 

BEET JUICE POWDER
❱

 

LIONS MANE
❱

 

GREEN TEA MATCHA
❱

 

BARLEY GRASS JUICE POWDER
❱

 

SPIRULINA
❱

 

TURKEY TAIL MUSHROOM
❱

 

REISHI MUSHROOM