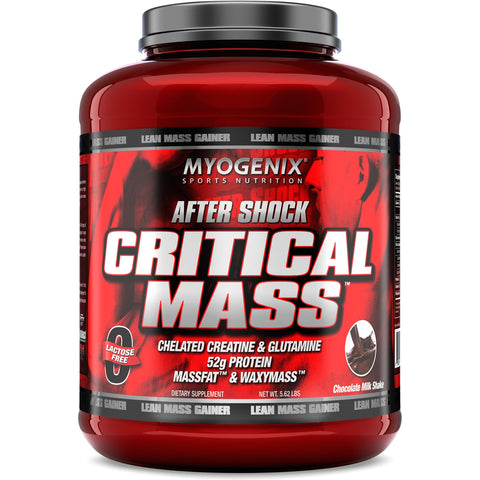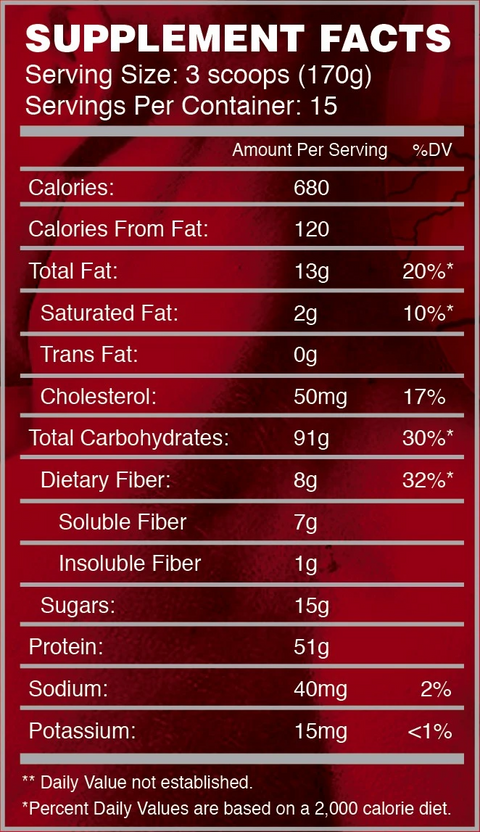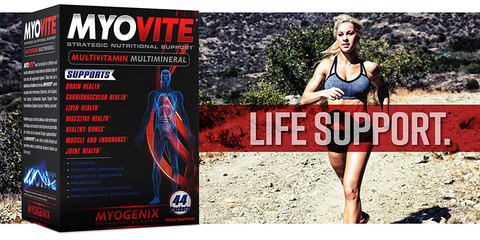 Myogenix
Myogenix AfterShock Critical Mass 5 Lbs
Checking availability
Description
AfterShock Critical Mass - LEAN MASS GAINER
➤ Zero Lactose Whey Proteins!
When supplement companies make a weight gainer, it's an opportunity to use the cheapest proteins (like soy protein or non-filtered whey concentrates) because they think they can hide them in a high calorie drink. MYOGENIX® never cuts corners. AFTERSHOCK CRITICAL MASS™ finally, a lean mass gainer with zero lactose, zero bloating, zero gas, and of course ZERO COMPETITION!†
➤ Add Quality Muscle, Not a Sloppy Gut.†
Adding quality muscle requires a lot of calories, but they must be from quality nutrients. A 10 lb bag of weight gainer providing mostly cheap carbs won't do anything for your physique but trigger a huge insulin response and make you fat and tired. AFTERSHOCK CRITICAL MASS™ provides easy digesting, zero lactose whey protein lean muscle building MassFat™ and WaxyMASS™ waxymaise carbs, plus an optimal ratio of protein to carbs.† Add quality muscle to your physique with quality nutrients from AFTERSHOCK CRITICAL MASS!™†
➤ MassFat™ and WaxyMass™
AFTERSHOCK CRITICAL MASS™ features two unique mass building ingredients you won't find anywhere else, MassFat™ & WaxyMass.™† MassFat™ is a combination of healthy fats, designed to put your body in anabolic mode, and pack on lean muscle.† WaxyMass™ is a specialized high molecular weight, fast digesting carbohydrate engineered to drive nutrients where you need them the most – your muscles.†
Supplement Facts
INGREDIENTS: Critical Mass Zero Lactose Protein blend (Ultra-Filtered Lactose Free Milk Protein Isolate, Cross Flow Micro Filtered Lactose Free Whey Protein, Ultra-Filtered Lactose Free Whey Protein Isolate), Critical Mass Carbohydrates (Maltodextrin, Cane Juice Solids, WaxyMass™ High Molecular Weight Waxymaize Polymers, Chicory Extract, Oat Fiber, Glucose Powder, Oat Bran, Rice Bran), MassFat™ (Canola Oil, Sunflower Oil, Cold Pressed Flax Seed, Borage Oil, CLA), Magnapower chelate blend (Magnesium Creatine Chelate, Magnesium Glycyl Glutamine), Pea Protein Isolate, Natural & Artificial Flavors, L-Glutamine, Sodium Caseinate, Soy Lecithin, Sucralose, Xanthan Gum.
ALLERGEN STATEMENT: THIS PRODUCT CONTAINS INGREDIENTS DERIVED FROM MILK AND SOY. THIS PRODUCT IS MANUFACTURED IN A PLANT THAT PROCESSES MILK, SOY, WHEAT & EGGS.
Suggested Use
DIRECTIONS: Mix 1 serving (170g / 3 scoops) in 12 to 16 oz of water and consume up to several times a day. For additional calories, add fresh fruit, peanut butter, whole milk, cooked oatmeal or cream, and mix in a blender. Enjoy!