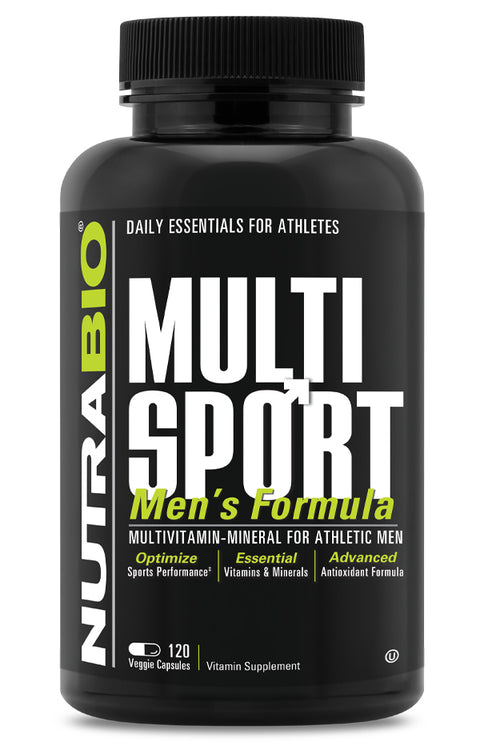 Nutrabio
MultiSport for Men- NutraBio
$29.99
$39.99
you save $10.00
Checking availability
MULTI-SPORT!
HOW DOES IT WORK?
Specifically formulated to support the demands of athletic men.
Supports peak athletic performance.
Supports metabolism and increases energy all day.
Fills dietary nutrient gaps to support optimum health.
Formulated with Albion Certified Chelated Minerals.
Gentle on the stomach.
33 Vitamins, minerals and micronutrients.
Powerful antioxidant formulation.
Multi-Sport has been certified as Albion Gold Medallion supplement.
NUTRABIO MULTISPORT FOR MEN: COMPREHENSIVE, CLINICALLY DOSED MULTIVITAMIN - MINERAL MATRIX
In a perfect world, athletes would consume a well-balanced diet containing whole grains, fruits, and vegetables, thereby aiding in the assurance of the proper intake of all micronutrients. Unfortunately, in the real world, athletes do not have perfect diets. In today's society, the lack of time and the convenience of less-than-ideal food sources tempt people to ingest a diet lacking many of the essential vitamins and minerals needed to maintain a healthy lifestyle and fuel performance. If an athlete's diet is less than favorable, it is recommended that they take a high-quality multivitamin as an easy and cost-effective way to ensure the proper intake of all the essential micronutrients. This is why NutraBio, the most trusted name in sports nutrition, developed MultiSport.
MultiSport is an advanced, therapeutically dosed vitamin, mineral, and antioxidant formula designed specifically to meet the nutritional demands of athletes in training and to fill micronutrient gaps left by an inadequate diet. MultiSport goes far beyond the minimum Recommended Daily Intake (RDI) to support optimal nutritional balance and peak physical and mental performance for hardcore athletes and fitness enthusiasts alike. Vitamins and minerals play critical roles in hundreds of bodily functions. MultiSport acts as a foundation for those nutritional needs and ensures that all of the vital micronutrients and co-factors are available at the crucial times your body needs to perform optimally.
Unlike most multivitamins that are built on fairy dusted combinations of random micronutrients hidden in proprietary blends, MultiSport combines clinically dosed, best-in-class ingredients precisely formulated to deliver exactly what you need to support health, performance, and overall well-being. With NutraBio, transparency and innovation is the name of the game and we do it better than anyone does. This transparency and innovation is reflected in the most superior multivitamin on the market today, MultiSport. It has everything you need in one comprehensive, open-label, clinically dosed formula and nothing that you don't.
MULTISPORT FOR MEN FEATURES
33 vitamins, minerals, and micronutrients specifically formulated to support the demands of athletic men
Full spectrum Vitamin B profile
Supports peak athletic performance
Supports metabolism and increases energy all day
Fills dietary nutrient gaps to support optimum health
Formulated with Albion certified chelated minerals
Gentle on the stomach
Powerful antioxidant formulation
MultiSport has been certified as a Albion Gold Medallion supplement
WHO CAN BENEFIT FROM TAKING MULTISPORT?
Anyone who wants more out of their current multivitamin
Anyone who trains hard week in, week out
Anyone who is on a calorie-restricted diet
Anyone who wants to increase the body's ability to recover
Anyone who wants to build more lean muscle or lose body fat
Anyone who wants to bolster their immune system
Anyone who wants to support overall health
THE RELATIONSHIP BETWEEN MACRO- AND MICRONUTRIENTS AND EFFECTS ON ATHLETES
The human diet consists of both macro- and micronutrients. Macronutrients include carbohydrates, fats, and proteins, whereas micronutrients consist of vitamins and minerals. As their name implies, macronutrients comprise most of the required dietary intake, whereas micronutrients are essential in much lower quantities. With the deficiency of micronutrients, athletic performance in addition to normal physiological function will suffer. However, the very nature of being a micronutrient suggests that excess intake in well-fed athletes will not likely alter performance without an activity associated increased need. For example, many vitamins and minerals are important in the catabolism of the macronutrients for energy production. Furthermore, many of the micronutrients are involved in endogenous antioxidant defense mechanisms. It has been hypothesized that athletes have an increased requirement for vitamins and minerals because of the increased energy expenditure and excess muscle damage that occurs during training or competition. NutraBio MultiSport can help athletes meet this increased need demand.
MULTISPORT IS NOT YOUR TYPICAL ONE-A-DAY MULTIVITAMIN
MultiSport is not an under dosed, low-quality multivitamin typically found at your local drug store that is meant for the inactive couch potato. Instead, MultiSport is packed full of scientifically validated, clinically dosed ingredients designed to meet the increased micronutrient demands of hard working athletes who want to maximize their training efforts and support overall health. No expense was spared in including the most bioavailable sources of ingredients in MultiSport. For example, the vitamins E and K found in MultiSport comes from d-alpha-tocopheryl succinate and Mena-Q® MK7. These natural forms of vitamins E and K are better absorbed and utilized by the body than the synthetic forms commonly found in traditional multivitamins. Furthermore, several of the micronutrients found in MultiSport are formulated with Albion® certified chelated minerals (TRAACS®). TRAACS is a state-of-the-art mineral amino acid chelate technology that ensures that the minerals found in MultiSport are true chelates, which have been found to be more stable, bioavailable, and easier on the stomach than unchelated minerals.
MultiSport is one of the best supplement investments you can make to support diet, overall health, and even your exercise or athletic performance. No other multivitamin on the market matches MultiSport's level of transparency and potent combination of vitamins, minerals, and micronutrients your body needs. At the end of the day, NutraBio isn't just about marketing hype and trying to maximize our profit. It's all about giving athletes what they want to meet their performance needs by giving them access to clean supplements that are innovative and effective. Like you, we want to train hard and see the results of our efforts. If you're looking for a comprehensive multivitamin designed specifically for athletes, you'd be hard pressed to find a more appealing option than MultiSport.
WHAT DOES THE RESEARCH SAY ABOUT MULTIVITAMIN/MINERAL COMPLEXES?
Key Study #1: Multivitamin/mineral supplementation increases energy and enhances mood.
A double-blind, randomized, placebo-controlled study conducted by Sarris et al. (2012) found that subjects who supplemented with a multivitamin for a period of 16 weeks reported increased energy levels and enhanced mood compared to the placebo. Additionally, a trend was found for participants reporting better sleep with the multivitamin over the placebo.
Key Study #2: Multivitamin/mineral supplementation decreases exercise-induced free radical cell damage.
A 2007 study conducted by Machefer et al. investigated the effect of a moderate multivitamin and mineral supplementation containing mainly vitamin C (150.0 mg.day−1), vitamin E (24.0 mg∙day−1), and β-carotene (4.8 mg∙day−1) prior to and during an extreme running competition—the Marathon des Sables (MDS)—which consisted of six long races in the desert.
Seventeen athletes participated in the double-blind placebo-controlled study. Blood samples were collected prior to the supplementation, i.e., three weeks before the competition (D-21), two days prior to the MDS (D-2), after the third race (D3), and at the end of the competition (D7). Erythrocyte antioxidant enzyme activity (glutathione peroxidase (GPx), superoxide dismutase (SOD)), erythrocyte glutathione level (GSH), plasma non-enzymatic antioxidant status (uric acid, vitamin C, α-tocopherol, retinol, β-carotene), markers of plasma lipid peroxidation (thiobarbituric reactive substances (TBARS), reactive carbonyl derivatives (RCD), and membrane damage (creatine kinase and lactate dehydrogenase activities) were measured.
The results of the study showed that in both groups, GSH levels, uric acid levels, and membrane damage significantly increased during the competition while SOD activity significantly decreased. In the supplemented group, plasma α-tocopherol, β-carotene, and retinol levels significantly increased after three weeks of supplementing. In contrast to the placebo group, α-tocopherol, vitamin C, and retinol levels were significantly affected by the competition in the supplemented group. Moreover, no increase in TBARS was observed in the supplemented group during the competition, whereas TBARS significantly increased at D3 in the placebo group.
The researchers concluded that multivitamin/mineral supplementation could prevent the transient increase in TBARS levels during extreme exercise.
Key Study #3: Multivitamin/mineral supplementation can lower blood lactate concentrations after exercise and could improve aerobic energy efficiency.
A 2007 study conducted by Aguilo et al. examined the effects of antioxidant diet supplements on blood lactate concentration and on the aerobic and anaerobic thresholds, and their adaptations to training were analyzed. Fifteen amateur male athletes were randomly assigned to either a placebo group or an antioxidant supplemented group. The supplementation was 90 days of vitamin E (500 mg·day−1) and β-carotene (30 mg·day−1) with the addition of vitamin C for the last 15 days (1 g·day−1). Before and after the antioxidant supplements, the sportsmen performed a maximal exercise test on a cycle ergometer and maximal and submaximal physiological parameters were assessed together with blood lactate concentration. Maximal oxygen uptake ([Vdot]O2max), maximal blood lactate concentration, and the maximal workload attained rose significantly in both groups after 3 months of training. At the end of the study, maximal blood lactate concentration was lower in the group that took supplements than in the placebo group. The percentage of [Vdot]O2max attained at the anaerobic threshold rose significantly in both groups after 3 months of training, although the final value in the supplemented group was higher than that in the placebo group. Antioxidant diet supplements induce lower increases in blood lactate concentration after a maximal exercise test and could improve the efficiency in which aerobic energy is obtained.
Key Study #4: Food alone may not provide sufficient micronutrients for preventing deficiencies.
The purpose of this study (Misner, 2006) was to determine if food intake alone provided the Recommended Daily Allowances (RDA) requirements for 10 vitamins and 7 minerals. The 10 vitamins analyzed were vitamin A, vitamin D, vitamin E, vitamin K, vitamin B-1, vitamin B-2, vitamin B-3, vitamin B-6, vitamin B-12, and folate. The seven minerals analyzed were iodine, potassium, calcium, magnesium, phosphorus, zinc, and selenium.
From 70 computer-generated dietary analyses, 20 subjects' diets were selected based on the highest number of foods analyzed from 10 men (age 25-50) and 10 women (age 24-50). A First Data Bank Nutritionist IV computer-program default was utilized, defaulting to apply the Harris-Benedict equation, a formula that determines energy expense against RDA micronutrient requirement by age, gender, and body mass index (BMI).
The 20 Individual Diets analyzed originated from the following subjects:
Two professional cyclists athletes (A)
Three amateur cyclists athletes (A)
Three amateur triathletes athletes (A)
Five eco-challenge amateur athletes (A)
One amateur runner athlete (A)
Six sedentary non-athletes (S)
Hence, fourteen (14) athletes' (A) and six (6) sedentary subjects' (S) diets were analyzed for calorie and RDA-micronutrient adequacy or inadequacy.
Of the 340 micronutrient entries generated from 17 micronutrients analyzed, all 20 subjects presented between 3 and 15 deficiencies each based on the RDA value from food intake alone. Males averaged deficiencies in 40% of the vitamins and 54.2% of the minerals required. Females averaged deficiencies in 29% of the vitamins and 44.2% of the minerals the RDA required. The male food intake was RDA-deficient in 78 out of 170 micronutrient entries, or 45.8% of the 10 vitamins and 7 minerals analyzed. The female dietary intake was RDA-deficient in 60 out of 170 micronutrients or 35.2% of the 10 vitamins and 7 minerals analyzed. Both male and females as a single entity recorded 138 micronutrient deficiencies out of the possible 340 micronutrients analyzed, or 40.5% RDA-deficient in micronutrients from food intake alone.
A GLANCE AT EACH INGREDIENT IN MULTISPORT FOR MEN
Vitamin A

 

- Improves resistance to infection and assists in the growth and repair of body tissues, including muscle.
Vitamin C

 

- Offers multiple antioxidant benefits, boosts immune health, and enhances collagen formation. Vitamin C has also been shown to increase fat loss and nitric oxide production.
Vitamin D

 

- Promotes calcium absorption in the gut and maintains adequate serum calcium and phosphate concentrations to enable normal mineralization of bone and prevent hypocalcemic tetany. Vitamin D has other roles in the body, including modulation of cell growth, neuromuscular and immune function, and reduction of inflammation.
Vitamin E

 

- May decrease levels of creatine kinase and malondialdehyde, markers of mechanical and oxidative muscle damage. Hence, vitamin E is critical for muscle recovery.
Vitamin K

 

- Best known for its role in helping blood clot, or coagulate, properly. Vitamin K also plays an important role in bone health.
Thiamin

 

- Involved in many body functions, including nervous system and muscle function, the flow of electrolytes in and out of nerve and muscle cells, digestion, and carbohydrate metabolism
Riboflavin

 

- In addition to producing energy for the body, riboflavin works as an antioxidant, fighting damaging particles in the body known as free radicals.
Niacin

 

- Helps the body make various sex- and stress-related hormones in the adrenal glands and other parts of the body. Niacin helps improve circulation and has been shown to suppress inflammation.
Vitamin B-6

 

- Helps the body make several neurotransmitters, chemicals that carry signals from one nerve cell to another. It is needed for normal brain development and function and helps the body make the hormones serotonin and norepinephrine, which influence mood, and melatonin, which helps regulate the body clock.
Folate

 

- Crucial for proper brain function and plays an important role in mental and emotional health.
Vitamin B12

 

- Maintains healthy nerve cells and helps in the production of DNA and RNA, the body's genetic material. Vitamin B12 works closely with folate to help make red blood cells and to help iron work better in the body.
Biotin

 

- Metabolizes carbohydrates, fats, and amino acids, the building blocks of protein.
Pantothenic Acid

 

- Assists in the production of red blood cells, as well as sex- and stress-related hormones produced in the adrenal glands. Pantothenic acid is also important in maintaining a healthy digestive tract, and it helps the body use other vitamins, particularly riboflavin.
Calcium

 

- Critical in the maintenance of bone and protecting the skeleton from degradation, calcium is also needed in order for muscle contractions to occur.
Iron

 

- Component of hundreds of proteins and enzymes in the body and is an essential element for blood production. Of the single nutrients, iron deficiency is the most common in the world.
Phosphorus

 

- Required for every cell in the body to function properly. Involved in energy production from ATP and creatine phosphate.
Iodine

 

- Critical for maintaining the health of the thyroid, a gland that secretes hormones that regulate growth and development
Magnesium

 

- Involved in more than 300 essential metabolic reactions, including metabolism of carbohydrates, fats, and proteins
Zinc

 

- Involved in cell signaling and therefore can release hormones and aid in nerve conduction.
Selenium

 

- Works as an antioxidant, especially when combined with vitamin E. Antioxidants like selenium help fight damaging particles in the body known as free radicals. Evidence suggests that selenium may also be critical for muscle strength.
Copper

 

- Necessary for the proper growth, development, and maintenance of bone, connective tissue, brain, heart, and many other body organs. Copper may also increase growth hormone production.
Manganese

 

- Involved in the production of testosterone and the formation of connective tissue.
Chromium

 

- Essential mineral that must be obtained through diet or supplementation. Chromium is involved in glucose metabolism by enhancing the function of insulin.
Molybdenum

 

- Required for allowing cells to produce energy within the mitochondria, the powerhouse of the cells, with the help of broken-down macronutrients.
Potassium

 

- Critical for nerve conduction and muscle contraction
Alpha Lipoic Acid

 

- Mitochondrial fatty acid that is highly involved in energy metabolism. ALA has also shown to be beneficial against various forms of oxidation and inflammation. These effects carry on to benefits that protect one from heart diseases, liver diseases, diabetes, and neurological decline with age.
Choline Bitartrate

 

- Essential nutrient for brain health and synaptic plasticity. Choline improves structural integrity, signaling capacity, and the fluidity of neural membranes. It's estimated that close to 90% of the population does not get the daily recommended amount of choline.
Citrus Bioflavonoids

 

- Enhances the effects of vitamin C and provides a powerful defense against oxidative stress. Studies have shown benefits of the citrus bioflavonoids on capillary permeability and blood flow.
Inositol

 

- Molecule structurally similar to glucose; heavily involved in cellular signaling. It is effective in treating insulin resistance and reducing symptoms of anxiety.

Silica

 

- Important in bone and collagen formation and may improve hair and nail health, as well as prevent cardiovascular disease and Alzheimer's disease.

Boron

 

- Assists in maintaining healthy bones and mental function. Research also suggests boron can increase levels of free testosterone.

Vanadium

 

- May promote the effects of insulin, which can help increase muscle growth and fat loss.
MultiSport FAQS
What is the best way to take MultiSport?
Take 4 capsules daily with meals. For best results, split into 2 doses and take 2 capsules twice daily with meals (ex: breakfast and dinner). Splitting your doses throughout the day will improve bioavailability and ensure essential micronutrients are available at critical times.
Do I really need to take a multi-vitamin/mineral?
It is highly recommended to supplement with a multi-vitamin/mineral (especially athletes) as research has shown that even the best diets are micronutrient deficient.
What makes MultiSport better than other multi-vitamins?
The level of label transparency and the quality, clinically dosed and effective ingredients that go beyond the RDA recommendations.
What other NutraBio products do you recommend stacking with MultiSport?
MultiSport can be stacked with any other NutraBio product.
Suggested Use: Take 4 capsules daily with meals. For best results, split into 2 doses and take 2 capsules twice daily with meals (ex: breakfast and dinner). Splitting your doses throughout the day will improve bioavailability and ensure essential micronutrients are available at critical times.
WARNING: KEEP OUT OF REACH OF CHILDREN. Check with a qualified healthcare professional before taking this product if you are pregnant, nursing, under 18 years of age, if you have any known or suspected medical condition(s), and/or are taking any prescription or OTC medication(s). Accidental overdose of iron-containing products is a leading cause of fatal poisoning in children under 6. In case of accidental overdose call a doctor or poison control center immediately
NutraBio Labs has a "No Compromise" commitment to producing the purest, cleanest, and most effective supplements on the market. All of our products are manufactured in-house in our FDA-inspected, GMP certified facility in New Jersey. NutraBio only uses the most superior ingredients and all ingredients are tested by us and a third party lab to ensure 99.98% purity or greater. Our products all include fully transparent labels featuring clinical doses of the highest quality ingredients available. To ensure our customers of our commitment to product quality, we launched a new website Checkmysupps.com which allows our consumers access to independent 3rd-party lab test results of all our products.
†These statements have not been evaluated by the Food and Drug Administration. This product is not intended to diagnose, treat, cure or prevent any disease.
*The products and claims made about specific products on this page or through this site have not been evaluated by the United States Food and Drug Administration and are not intended to diagnose, treat, cure or prevent disease. The information provided on this site is for informational purposes only and is not intended as a substitute for advice from your physician or other health care professional or any information contained on or in any product label or packaging. You should not use the information on this site for diagnosis or treatment of any health problem or for prescription of any medication or other treatment. You should consult with a healthcare professional before starting any diet, exercise or supplementation program, before taking any medication, or if you have or suspect you might have a health problem. Please view our full Terms Of Use for more information and the terms and conditions governing your use of this site.

Important Notice - This site does not provide healthcare advice. Consult your physician before starting any nutritional supplement program.
The statements made about the effects of the dietary supplements in this announcement have not been evaluated by the Food and Drug Administration. Dietary and nutritional supplements are intended for special dietary use. They are not intended for use in the treatment, cure, prevention or mitigation of any disease or disorder. They are intended to be used as part of an overall healthy lifestyle program that includes proper diet and exercise. Only your doctor can properly diagnose and treat any disease or disorder. Before starting to use any nutritional supplement, it is important to check with your doctor.
You should consult with your physician before starting a Nutrabio.com or any weight management program.  Regular exercise and proper nutrition are essential to achieving your desired physique and level of fitness and health. There are no typical results. Nutrabio.com performance nutrition products are intended to supplement your exercise and nutrition program.
It is important to read and follow all label directions carefully. Nutrabio.com® supplements are not intended for children or for pregnant or lactating women. Not all supplements are appropriate for everyone. In any case, it is prudent for those who have not been taking nutritional supplements to gradually increase their daily dosage to reach the desired amount.
Nutrabio.com® is not responsible for claims arising out of the improper use, handling or storage of any Nutrabio.com® product.  All Nutrabio.com® nutritional supplements are packaged with tamper-resistant closures (including shrink-wrap seals) and shipped directly from our warehouse to the consumer. Do not use any product if the tamper-resistant closures are torn or missing, or if there is other evidence of product tampering.
The products, information, services and other content provided on and through this site, including without limitation any products, information, services and other content provided on any Linked Site, are provided for informational purposes only to facilitate discussions with your physician or other healthcare professional (collectively, "Healthcare Professional") regarding treatment options.
The information provided on this site and Linked Sites, including without limitation information relating to medical and health conditions, products and treatments, is often provided in summary or aggregate form. It is not intended as a substitute for advice from your Healthcare Professional, or any information contained on or in any product label or packaging.
You should not use the information or services on this site for diagnosis or treatment of any health issue or for prescription of any medication or other treatment. You should always speak with your Healthcare Professional, and carefully read all information provided by the manufacturer of a product and on or in any product label or packaging, before using any medication or nutritional, herbal or homeopathic product, before starting any diet or exercise program or before adopting any treatment for a health problem. Each person is different, and the way you react to a particular product may be significantly different from the way other people react to such product. You should also consult your physician or healthcare professional regarding any interactions between any medication you're currently taking and nutritional supplements.
Nutrabio.com, Inc. is not responsible for any product or service sold on or through this site or any claims of quality or performance made on or through this site, including any claims of quality or performance made on or through any site to which this site links (each a "Linked Site"). You are advised that other sites on the Internet, including without limitation Linked Sites, might contain material or information that some people may find offensive or inappropriate; or that is inaccurate, untrue, misleading or deceptive; or that is defamatory, libelous, infringing of others' rights or otherwise unlawful. Nutrabio.com, Inc. expressly disclaims any responsibility for the content, legality, decency or accuracy of any information, and for any products and services, that appear on any Linked Site.