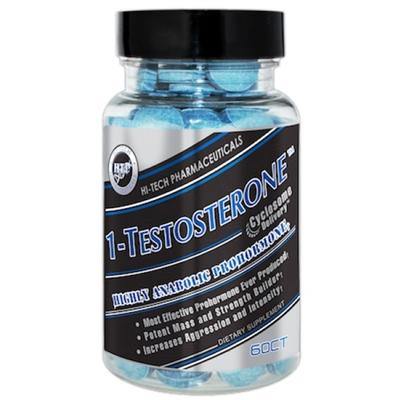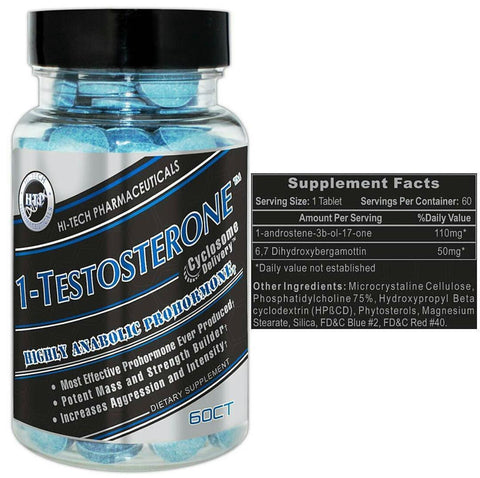 Hi-Tech
Hi-Tech | 1-Testosterone
Checking availability
1 Testosterone is a Highly Anabolic Prohormone
1-Testosterone™ by Hi-Tech Pharmaceuticals is based upon a naturally occurring metabolite for many animals including man that has properties far different from standard testosterone in the body. 1-Testosterone™ is more of a mild hormone that will give you cleaner gains and dramatic strength increases. 1 Testosterone contains 110mg of 1-ANDRO, the most in any prohormone and the most effective for testosterone. **This is a real prohormone, do not fall for stuff in your local store as those are just herbs and minerals. Those are like a pop(soda for YOU people) posing to be a preworkout energy drink..**


Hi-Tech Pharmaceuticals 1-Testosterone Benefits
Anabolic Prohormone

Helps Increase Protein Synthesis
Helps Increase Fat Loss
Can Provide Bigger Muscle Pumps
Helps Increase Lean Mass
Promotes Increased Strength
Will Not Convert to Estrogen
Promotes Increased Muscle Hardness
Can Help Enhance Muscle Definition
Increases Workout Intensity
Contains Potent Mass & Strength Building Ingredients
SUPPLEMENT FACTS
THE SCIENCE OF 1-TEST PROHORMONE
In a recent study released in the Journal of Applied Physiology, the oral prohormone 1-androstene-3b-ol-17-one which converts in the liver to 1-Testosterone was as potent milligram-for-milligram to Testosterone Enanthate, the gold standard for Testosterone products. Very few dietary supplements have been subjected to a clinical study. However, the active prohormone 1-androstene-3b-ol-17-one was the subject of a clinical study at the West Texas A&M University, the California Baptist University and the University of Texas at Austin. The results showed 1-androstene-3b-ol-17-one to be significantly more powerful than it would appear structurally. The 9 males gained an average lean mass of 10.4 lbs and an increase in strength of 92.2 lbs in total load on bench/squat/deadlift. These are significant gains from a prohormone. The researchers concluded that the prohormone supplement contributed to robust improvements in muscle mass and strength in resistance trained. Although repeated studies are necessary to substantiate the efficacy of any compound, it's safe to say that 1-androstene-3b-ol-17-one definitely packs a punch.
1-Testosterone would give you clean gains that are very dry and lean in nature. This means you won't get a lot of bloat or estrogen activity with this prohormone. The lack of estrogen actually causes most people to stack this steroid with 4-andro or another "wet" compound. This helps potentiate the gains and increase the "comfort" of the cycle. 1-Testosterone™ will help give you clean gains that are very sustainable and help your strength go through the roof .
1-Testosterone Structure  
1-Testosterone has a structure similar to testosterone but the double bond is in a different place. 1-Testosterone is a 1,2-double bond instead of a 4,5-double bond in its A ring. This slight modification means that the molecule is subject to different metabolism than standard testosterone. It cannot be converted to estrogen via aromatase nor can it be turned into DHT. This makes it a very stable molecule and resists most traditional routes of metabolism. A 2006 study determined that 1-testosterone has a high androgenic and anabolic potency even without being metabolized. 1-testosterone binds in a manner that is highly selective to the androgen receptor (AR) and has a high potency to stimulate AR-dependent transactivation. 1-Testosterone has an anabolic to androgenic ratio of 200/100, which is superior to testosterone!
With 1-Testosterone™, many users report a hardening effect and an increase in vascularity. 1-Testosterone™ appears to be best used for size gains, although it provides the user with incredible strength gains as well. 1-Testosterone™ is considered a "dry" compound which can be used during cutting phases yet because of its strength is can also be useful during a bulking phase.
With its favorable anabolic to androgenic ratio, the androgenic side effects are not too high with this compound in comparison to other steroids like testosterone. 1-Testosterone™ with its orally active prohormone 1-androstene-3b-ol-17-one is still legally available and converts to 1-testosterone in a two step process. Only Hi-Tech has the exact same dose as studied in the Texas/California study that has been compared to Testosterone Enanthate, the gold standard for Testosterone products! Try Hi-Tech's revolutionary 1-Testosterone™ for exceptionally clean muscle gains and dramatic strength increases.
Bodybuilders, fitness enthusiasts, and athletes pay attention. The muscle-building breakthrough of the 21st century is here and the results being achieved by 1-Testosterone™ has been phenomenal. 1-Testosterone™ works to create the perfect anabolic environment for unbelievable gains in lean muscle mass and strength that will not disappear when your cycle is completed!


Cyclosome™ Delivery:
Hi-Tech Pharmaceuticals is an Innovator in the Bodybuilding and Prohormone industry being one of the first companies to introduce many of the prohormones that have entered the marketplace over the last decade. Researchers at Hi-Tech recently developed a proprietary process called Cyclosome™Technology. This one-of-a-kind technology brought to you by the leaders in Prohormones involves the entrapment of hydrophobic prohormones and other Testosterone boosting compounds in the form of water-soluble Prohormone–cyclodextrin (CD) complex in liposomes has been investigated as a new strategy to combine the relative advantages of CDs and liposomes into one system, namely Prohormone-in-CD-in-liposome systems called Cyclosome's™. You can think of all this in terms of a 'Trojan Horse,' passing through the liver unharmed and intact. As opposed to being destroyed in the liver like all other hormonal products on the market, past and present. This new Cyclosome™ technology allows the 'Trojan Horse' to deliver prohormones and testosterone boosters to the systemic circulation by the intestinal lymphatic route, circumventing first-pass inactivation in the liver for the very first time. Almost all previous Oral capsules and tablets manufactured to increase testosterone — including Testosterone itself — are involved in the "first pass affect" which renders the active compounds virtually useless.
Cyclosome™ Technology — the most advanced liposomal delivery technology ever developed for bioavailability is the answer to getting poorly absorbed Testosterone boosting compounds and legal prohormones into the body so they can work ! The pharmaceutical industry has embraced this cutting-edge technology in recent years and now 1-Testosterone™ will be one of the first to utilize it in a testosterone booster and anabolic agent.
For Cyclosome™ preparation, an overall understanding of the interaction between CDs and lipid components of liposomes is necessary for this complex. Hi-Tech has developed a Double-loading technique, which is a revolutionary strategy to prohormone release and increase prohormone-loading capacity. The Cyclosome™ approach can be useful in increasing prohormone solubility and vesicles stability, in controlling the in vivo fate of hydrophobic compounds and in avoiding burst release of prohormones from the vesicles. To obtain a stable Cyclosome™, the CDs should have a higher affinity to prohormone molecules compared with liposomal membrane lipids. Cyclosomes prepared by Hi-Tech's double-loading technique are the most advanced targeted prohormone delivery system ever developed because they have a fast onset action with prolonged prohormone release process and the significantly enhanced prohormone-loading capacity.
SUGGESTED USE
As a dietary supplement, take 1 tablet in the morning and 1 tablet in the evening.  Do not exceed 2 per day.
HOW TO CYCLE
1 Testosterone Can be taked 4-12 Weeks. Each Bottle is 1 4 week cycle. Take 2x Tablets Per day for 4 weeks Minimum. Best Results are 8-12 week range.
USE WITH OTHER PROHORMONES TO REACH YOUR GOAL:
1 Testosterone is best stacked as followed:
Cutting Stack: 1 Testosterone, Decabolin, Anavar
Bulking Stack: 1 Testosterone, Decabolin, Dianabol
Strength Stack: 1 Testosterone, Decabolin, Superdrol
Post Cycle Usage:
With all pro-hormones, we do recommend a PCT. Side effects are not common with these compounds, as estrogen conversion has not been reported to us by our customers. 1-andro does not convert to estrogen, though higher test levels can lead to higher estrogen with it. We think it is better to be safe than sorry when the neccassary tools are available. An estrogen blocker is only going to greatly increase your gains. Why take it 12 weeks then fall off? With an estrogen blocker like ARIMISTANE, you are only going to extend your gains and keep levels elevated. An estrogen blocker will also help with any possible yet minimal water rentention and "dry" you out. We just really do love how they work and complement Hi-Tech Prohormones. Think of it as a bridge back to natty.*
*These statements have not been evaluated by the Food and Drug Administration. This product is not intended to treat, cure, diagnose, or prevent any disease. This product should not be used in place of or as a substitute for recommendations by your healthcare professional. No clinical study has been performed on Anavar. These statements are based on the active ingredients: L-Arginine, BEC, ABH, 6-Keto Diosgenin, Inosine, ATP, DHEA, Creatine and Beta Ecdysterone.