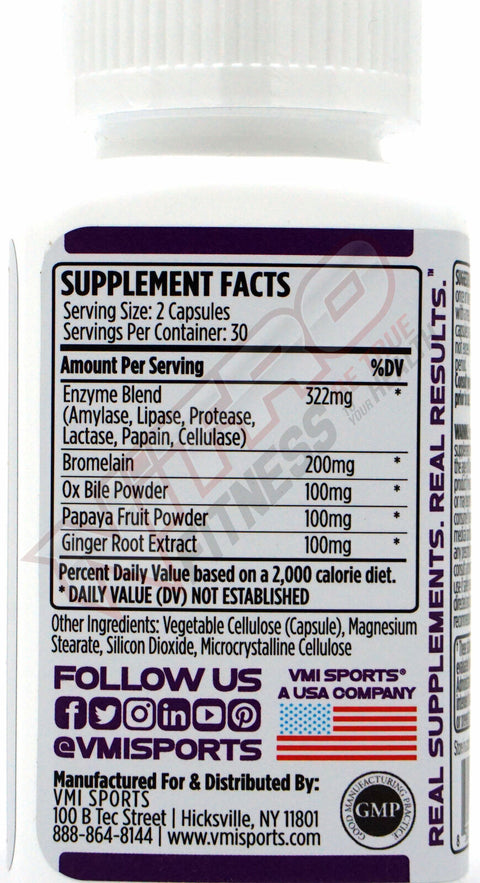 VMI
Digestive Enzymes VMI Sports
$19.99
$24.99
you save $5.00
Checking availability
VMI Sports Digestive Enzymes 60 Capsules
VMI Sports Digestive Enzymes are a powerhouse for your digestive system, packing a 322mg Enzyme Blend. Digestive Enzymes help your body to break down the food you eat, making it more absorbable by your body. This allows you to take in more vital nutrients including vitamins, minerals, proteins, fats, and carbs. VMI Sports Digestive Enzymes also supports digestion and helps to maintain gut health. If you struggle with feeling bloated this is exactly what you need, grab a bottle today!
VMI Sports Digestive Enzymes Highlights
Supports Digestion
Maintain Gut Health
Helps Reduce Feelings of Bloating
Helps Your Body Absorb Nutritions
322mg Enzyme Blend 
What Do Digestive Enzymes Do?
Digestive Enzymes help facilitate the breakdown of food into smaller more absorbable components. Enzymes help to break down food more thoroughly that more food is absorbed by the body and not passed out as feces.
Do Digestive Enzymes Make You Poop?
Digestive Enzymes don't affect gut mobility 
How Do I Take VMI Sports Digestive Enzymes?
Take 2 caps once per day. Preferably taken with a meal. 
VMI Sports Digestive Enzymes Supplement Facts
Serving Size: 2 Capsules
Servings Per Container: 30
Enzyme Blend 322mg
(Amylase, Lipase, Protease, Papain, Cellulase)
Bromelain 200mg
Ox Bile Powder 100mg
Papaya Fruit Powder 100mg
Ginger Root Extract 100mg
Other Ingredients: Vegetable Cellulose (Capsule), Magnesium Stearate, Silicon Dioxide, Microcrystalline Cellulose.
VMI Sports Digestive Enzymes Side Effects & Warnings
Store in a cool dry place and keep out of reach of children. 
References
Wang DQ, Carey MC. Therapeutic uses of animal biles in traditional Chinese medicine: an ethnopharmacological, biophysical chemical and medicinal review. World J Gastroenterol. 2014;20(29):9952–9975. doi:10.3748/wjg.v20.i29.9952
https://www.ncbi.nlm.nih.gov/pmc/articles/PMC4123376/
Bode AM, Dong Z. The Amazing and Mighty Ginger. In: Benzie IFF, Wachtel-Galor S, editors. Herbal Medicine: Biomolecular and Clinical Aspects. 2nd edition. Boca Raton (FL): CRC Press/Taylor & Francis; 2011. Chapter 7. Available from: https://www.ncbi.nlm.nih.gov/books/NBK92775/