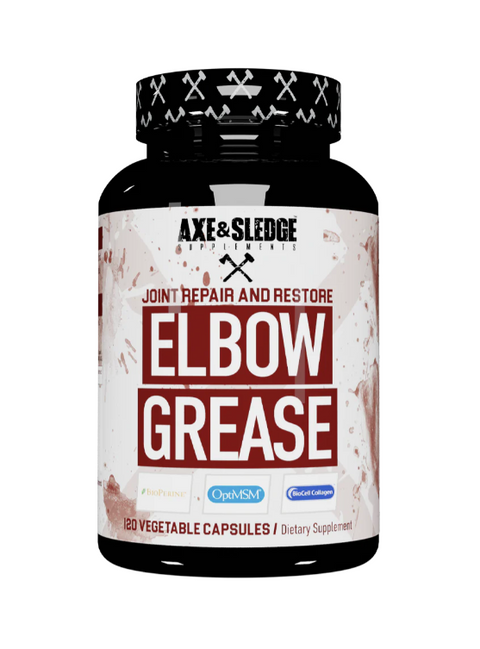 Axe & Sledge Supplements
Axe & Sledge | Elbow Grease
Checking availability
YEARS OF BEING A HARD WORKING M'FER TAKES A TOLL ON YOUR BODY, ESPECIALLY YOUR JOINTS! ALTHOUGH IT'S OFTEN OVERLOOKED, JOINT HEALTH SHOULD NOT BE TAKEN LIGHTLY, WHICH IS WHY WE CREATED ELBOW GREASE!

ELBOW GREASE IS A COMPLETE JOINT SUPPORT SUPPLEMENT THAT WAS FORMULATED TO HELP MANAGE INFLAMMATION, IMPROVE JOINT MOBILITY, STRENGTHEN BONES, LIGAMENTS, AND CARTILAGE, AND ENHANCE RECOVERY FROM INTENSE TRAINING.
ELBOW GREASE USES A COMBINATION OF KEY VITAMINS AND MINERALS, ALONG WITH SEVERAL TRADEMARKED INGREDIENTS CLINICALLY SHOWN TO IMPROVE OVERALL JOINT HEALTH. AFTER CONSISTENTLY TAKING ELBOW GREASE YOU MAY EXPERIENCE LESS JOINT PAIN, GREATER MOBILITY, AND FASTER RECOVERY.
BENEFITS
SUPPORTS JOINT HEALTH

PROMOTES COLLAGEN PRODUCTION

ENHANCES JOINT MOBILITY

IMPROVES RECOVERY
KEY INGREDIENTS
1.5 GRAMS GLUCOSAMINE

500 MG CHONDROITIN

300 MG OPTIMSM®

20 MG UC-II® COLLAGEN

5 MG BIOPERINE®